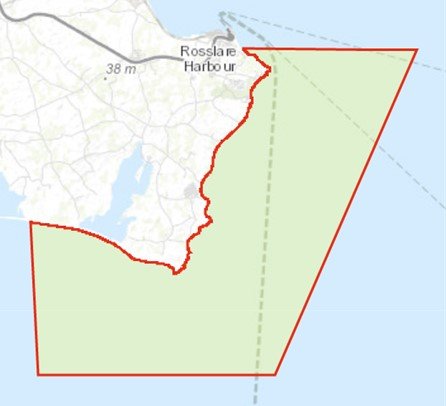 Carnsore Point, the south-eastern cornerstone of the island of Ireland near the Europort at Rosslare Harbour, is a hotspot for watching seabirds on passage.
A large, offshore area wrapped around the Point is a marine protected area (MPA) for its reefs and species-rich underwater life.
The intertidal and offshore reefs are formed of Carnsore granite, a coarse pinkish-brown rock, and range from very exposed to moderately exposed to wave action. In water at depths of 11-30m there are excellent examples of sea squirt communities.
The reefs and other marine habitats are of considerable conservation significance as they support a number of species with a limited distribution in Ireland; together they comprise the Carnsore Point Special Area of Conservation (SAC) site code IE0002269. (Image source: Standard Data Form (SDF) for Carnsore Point SAC on the European Environment Agency (EEA) Natura 2000 (N2k) Network Viewer at https://natura2000.eea.europa.eu/).
Further reading
Note. The SWC Promotions eircom email address and 053 'phone number given in some older leaflets are no longer active; please use the 'Contact' tab to get in touch. Thank you. Also, the new telephone number for Tony Murray, NPWS Conservation Ranger, is 01 539 3212.
Images